(ThyBlackMan.com) Well Rihanna and Chris Brown are rumored to have partied with Kim Kardashian and Kanye West recently. Despite Karrueche Tran being there, Chris Brown and Rihanna showed some PDA while some of Hollywood's A-Listers got their groove on.
Last Thursdsay, writers with the New York Daily News reported that things are heating up with one of the most talked-about couples in the entertainment industry.
While Rihanna and Chris Brown are both are superstars in their own right, it's their violent past and the possibility of reuniting that has social media burning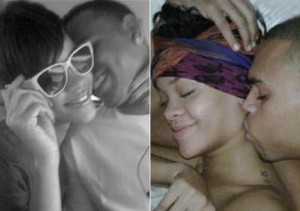 up.
Sources say the two dropped it like it's hot in front of Kim Kardashian and Kanye West, who were aboard a billionaire's yacht recently. Kanye West supposedly grabbed the mic and serenaded Kim Kardashian and performed a few of his songs.
"Chris Brown's reason for being there is to shoot a video with Swizz Beatz and Ludacris. But it just so happens Rihanna is there too, which Karrueche Tran wasn't happy about so she went along. There's no way she was missing the trip for him and Rihanna to meet up alone," the source said.
Singer Rihanna and Chris Brown are both in Saint Tropez. While Rihanna is said to be vacationing, Breezy is there on business shooting an upcoming music video with some homies. However, the other business is thought to be his quest to hook up with his former girlfriend.
    "Don't just think he's out there and they won't try to connect. Rihanna goes hard for him and he might let his guard down, so you never know. Rihanna text him and told him she wants to connect out here and they will see each other. Trust," a source told Hollywood Life.
Should Rihanna and Chris Brown address the allegations going around? It must be embarrassing for his girlfriend Karrueche Tran to be caught in the middle of all this gossip. Perhaps they are all smart about it and are just riding the publicity train. Seems to us Karrueche Tran the odd one out. Yes Karrueche Tran is no match for Rihanna when it comes to Chris Brown heart.
Share
More Articles: