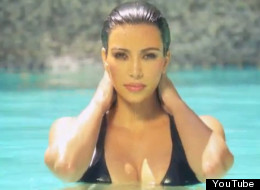 Sunday marked the Season 7 finale of "Keeping Up With The Kardashians," but there's no escaping reality TV's most famous family.
Come January, the Kardashian sisters will be back on television, this time taking on Miami. In a new promo for "Kourtney & Kim Take Miami" (not be confused with "Kourtney & Khloe Take Miami") the eldest Kardashian sisters promise that things will heat up.
The sisters, along with Kourtney's boyfriend and baby daddy Scott Disick, are currently filming in the Sunshine State and the good people of Miami will have to put up with them for the next three months.
Keep in mind, the last time Kourtney and Kim took on a city, viewers witnessed the dissolution of Kim's marriage to Kris Humphries, and from the looks of the promo for the new show there is still plenty of drama just waiting to be manufactured for your viewing pleasure.
Loading Slideshow
The Kardashians/Jenners

(Getty)

The Kardashians/Jenners

(Getty)

The Kardashians/Jenners

(Getty)

The Kardashians/Jenners

(Getty)

The Kardashians/Jenners

(Getty)

The Kardashians/Jenners

(Getty)

The Kardashians/Jenners

(Getty)

The Kardashians/Jenners

(Getty)

The Kardashians/Jenners

(Getty)

The Kardashians/Jenners

(Getty)

The Kardashians/Jenners

(Getty)

The Kardashians/Jenners

(Splash News)

The Kardashians/Jenners

(Splash News)

The Kardashians/Jenners

(Getty)

The Kardashians/Jenners

(Splash News)

The Kardashians/Jenners

(Splash News)

The Kardashians/Jenners

(Getty)

The Kardashians/Jenners

(Getty)

The Kardashians/Jenners

(Splash News)

The Kardashians/Jenners

(Splash News)

The Kardashians/Jenners

(Splash News)

The Kardashians/Jenners

(Splash News)

The Kardashians/Jenners

(Splash News)

The Kardashians/Jenners

(Splash News)

The Kardashians/Jenners

(Splash News)

The Kardashians/Jenners

(Splash News)

The Kardashians/Jenners

(Getty)

The Kardashians/Jenners

(Splash News)

The Kardashians/Jenners

(Splash News)

The Kardashians/Jenners

(Getty)

The Kardashians/Jenners

(Splash News)

The Kardashians/Jenners

(Splash News)

The Kardashians/Jenners

(Splash News)

The Kardashians/Jenners

(Splash News)

The Kardashians/Jenners

(Splash News)

The Kardashians/Jenners

(Getty)

The Kardashians/Jenners

(Getty)

The Kardashians/Jenners

(Splash News)

The Kardashians/Jenners

(Splash News)

The Kardashians/Jenners

(Splash News)

The Kardashians/Jenners

(Splash News)

The Kardashians/Jenners

(Splash News)

The Kardashians/Jenners

(Getty)

Kim Kardashian Attends 'QuickTrim' Photocall At Westfield London

LONDON, UNITED KINGDOM - MAY 19: Kim Kardashian celebrates the launch of her weight management product 'QuickTrim' at Westfield on May 19, 2012 in London, England. (Photo by Stuart Wilson/Getty Images)

The Kardashians/Jenners

(Getty)

The Kardashians/Jenners

(Getty)

The Kardashians/Jenners

(Getty)

The Kardashians/Jenners

(Getty)

DFI Red Carpet Arrivals for Cruel Summer - 65th Annual Cannes Film Festival

CANNES, FRANCE - MAY 23: Kim Kardashian arrives at Cruel Summer , Kanye West's art film project with the Doha Film Institute which debuts May 23 at the Cannes Film Festival. (Photo by Andrew H. Walker/Getty Images for DFI)

Phoenix Suns v Dallas Mavericks

DALLAS, TX - JANUARY 04: (L-R) Khloe and Kim Kardashian attend a game between the Phoenix Suns and the Dallas Mavericks at American Airlines Center on January 4, 2012 in Dallas, Texas. NOTE TO USER: User expressly acknowledges and agrees that, by downloading and/or using this Photograph, user is consenting to the terms and conditions of the Getty Images License Agreement. (Photo by Ronald Martinez/Getty Images)

Kris Jenner, mother of Kardashian celebr

Kris Jenner, mother of Kardashian celebrity sisters Kim, Khloe and Kourtney, arrives at a red carpet event hosted by Google and the Hollywood Reporter, on the eve of the annual White House Correspondents' Association dinner in Washington on April 27, 2012. AFP PHOTO/Nicholas KAMM (Photo credit should read NICHOLAS KAMM/AFP/GettyImages)
Related on HuffPost:
"; var coords = [-5, -72]; // display fb-bubble FloatingPrompt.embed(this, html, undefined, 'top', {fp_intersects:1, timeout_remove:2000,ignore_arrow: true, width:236, add_xy:coords, class_name: 'clear-overlay'}); });