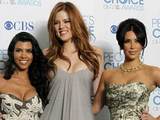 Kim Kardashian
, Khloe Kardashian and Kourtney Kardashian are launching a new cosmetics line, it has been reported.
The Keeping Up with the Kardashians stars have named the new beauty line Khroma Beauty.
The Kardashian sisters said in a statement: "It's a dream come true to have our own makeup line and to share it with women around the world."
Cosmetics sold in the new line will cater to women of multi-ethnic backgrounds and different ages.
All three Kardashian sisters will film interactive videos and engage with fans of the line via Twitter.
The beauty line is one of many business ventures the sisters have collaborated on, including fragrances, clothing lines, and diet pill endorsements.
The siblings recently signed a deal for three more seasons of their hit E! reality show, and have several spin-off series lined up.
The first Khroma Beauty products will be available in stores this winter.