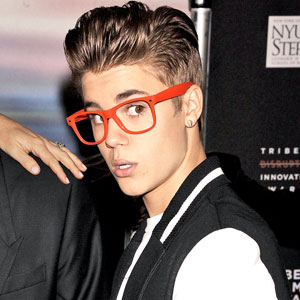 Bill Davila/startraksphoto.com
Justin Bieber is all grown upâ€"kinda.
In a new interview with GQ, the 18-year-old pop star opens upâ€"hesitantlyâ€"about his life as a "swaggy adult."
When asked by the interviewer if he's ever gotten "s--tfaced," he explains eloquently: "For me, it's just like, I like to be in control of myself. I mean, I've had a beer, like, before…But I never get out of control."
The Biebs is also quick to defend our girl Kim Kardashian after one of his "business advisors" insults the reality star.
READ: Aw! Justin Bieber Writes Song for Mom
"You guys are so mean, bro," he says indignantly. "People say she doesn't do anything; she actually does do stuff…She works hard."
Bieber works hard himself, and he's proud of his accomplishments. "I've never made a bad song," he says.
And of course, like any teenage boy, he wants to reap the rewards of his hard work. During the interview, his tricked-out Mercedes-Benz Sprinter van arrives. It's got three HD TVs, a computer dock and a fully operational recording studio. His friends try to guess how much it costs, and one reasons, "Definitely not a million."
Hey, whatever amount this swag van set the Biebs back, we're pretty sure he can foot the bill.